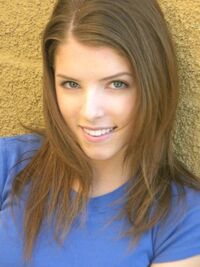 Anna Kendrick (born August 9, 1985) is an American actress who plays plays Stacey Pilgrim in the Scott Pilgrim vs. the World movie. She is actually older than Michael Cera, while Stacey is Scott's younger sister. Kendrick rose to fame after her performance as Natalie Keener in Up in the Air, for which she received an Academy Award nomination for Best Supporting Actress. Her other work includes The Twilight Saga, Camp, Rocket Science, and the Broadway musical High Society.
Kendrick was born in Portland, Maine, the daughter of Janice, an accountant, and William Kendrick, a history teacher. Kendrick and her older brother, actor Michael Cooke Kendrick, who appeared in the 2000 film Looking for an Echo, both attended Longfellow Elementary School, Lincoln Middle School and Deering High School in Portland. She lists Parker Posey, Molly Shannon and Amy Poehler as her inspirations.
She was earlier in a relationship with director Edgar Wright, whom she met during the production of Scott Pilgrim vs. the World.
Ad blocker interference detected!
Wikia is a free-to-use site that makes money from advertising. We have a modified experience for viewers using ad blockers

Wikia is not accessible if you've made further modifications. Remove the custom ad blocker rule(s) and the page will load as expected.