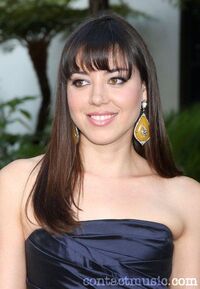 Aubrey Christina Plaza (born June 26, 1984) is an American actress and comedian who has gained popularity through her deadpan-style comedy, and currently co-stars in Parks and Recreation as April Ludgat
Aubrey Plaza is an American actress who plays Julie Powers in the Scott Pilgrim vs. the World movie. She has starred in films like Funny People, Safety Not Guaranteed, and The To-Do List, and in the television show Parks and Recreation.
Plaza was born in Wilmington, Delaware, the daughter of Bernadette, an attorney, and David Plaza, a financial advisor. She has two younger sisters, Renee and Natalie, like her character in Parks and Recreation, whom she uses for a source of inspiration for the character of April.
Plaza was named after the song "Aubrey" by Bread. Her father is Puerto Rican and her mother is of Irish and English descent. Plaza has stated: "I was like the only diverse kid in my high school, and I'm half-Puerto Rican. But yeah, I have a huge family and tons of cousins in Puerto Rico."
She is a graduate of Ursuline Academy in 2002 and New York University's Tisch School of the Arts in 2006. While at NYU in 2004, Plaza suffered a stroke that caused temporary paralysis and expressive aphasia, but she has fully recovered
Ad blocker interference detected!
Wikia is a free-to-use site that makes money from advertising. We have a modified experience for viewers using ad blockers

Wikia is not accessible if you've made further modifications. Remove the custom ad blocker rule(s) and the page will load as expected.