Ad blocker interference detected!
Wikia is a free-to-use site that makes money from advertising. We have a modified experience for viewers using ad blockers

Wikia is not accessible if you've made further modifications. Remove the custom ad blocker rule(s) and the page will load as expected.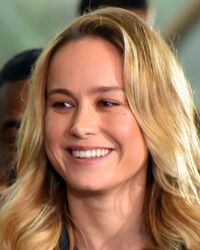 Brie Larson
(born
Brianne Sidonie Desaulniers
; October 1, 1989) is an
American
actress
,
singer
/
songwriter
and musician.
She is best known for her roles in United States of Tara, Sleepover, Remember The Daze and Scott Pilgrim vs. the World. Her only album Finally Out of P.E. was released in October 2005. is an actress who plays Envy Adams in the Scott Pilgrim vs. the World movie. She starred in films like Hoot and TV shows like United States of Tara. Her real life boyfriend is John Patrick Amedori who cameos in the Movie as the Lollipop Hipster at the front of Chaos Theatre asking Scott for the first password.
Larson's first job was performing in sketches on The Tonight Show with Jay Leno. Soon after, she was cast in the television series Schimmel, which was announced but never aired as, shortly before filming, the star Robert Schimmel was diagnosed with cancer. After being "on hold" for ten months FOX canceled the show. She later auditioned for a new show for The WB called "In Your Dreams." She landed the role of Bob Saget's younger daughter, Emily. The show was selected for the 2001-2002 fall season and was renamed "Raising Dad". The show was then canceled after twenty-seven episodes. Larson was also cast in the pilot for the ABC sitcom Hope and Faith, however, she and some of the other cast members were dropped after the unaired pilot.
In 2003, Larson was cast as Courtney Enders in the Disney Channel Original Movie Right on Track, a film based on a true story. In July 2004, she co-starred with a large cast of teen actors in the film Sleepover. She also had a small role in the movie 13 Going on 30. Larson also appeared in the film Hoot, opposite actors Logan Lerman and Cody Linley, both of whom are very good friends of hers. The film opened on May 5, 2006. Larson's voice is also featured in the movie Farce of the Penguins as a teenage penguin. She played Angie in the 2007 comedy/drama Remember the Daze.
Larson appeared in the 2008 short film The Babysitter, written and directed by David H. Steinberg and co-starring Josh Cooke, Molly Hagan and John Kapelos. The film can be seen exclusively online at Atom Films. She appeared in an episode of Ghost Whisperer in January 2008. She also has a role as Kate in the 2008 film, Tanner Hall, directed by Francesca Gregorini and Tatiana von Furstenberg. Larson played the character Kate Gregson on the Showtime series United States of Tara. The show premiered on January 18, 2009 and was cancelled on May 23, 2011 with its final episode airing on June 20, 2011.
In 2012, Larson appeared in the film adaptation of the popular 1980s TV show 21 Jump Street. She played Molly, co-starring with Channing Tatum and Jonah Hill.
In 2015, she starred in Room, an acclaimed drama based on Emma Donoghue's novel of the same name. She won several awards for her portrayal of a troubled mother in the film, including the Academy Award, BAFTA Award, and Golden Globe Award for Best Actress.
Recently, in 2016, it has been rumored that she is being considered for the role of Carol Danvers in Marvel Studios' upcoming Captain Marvel film.