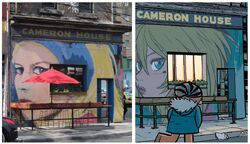 Cameron House is the original "artmusictheatrebar" located in Toronto at 408 Queen Street West. It's known for wild art on the walls and ceilings, and for having a variety of excellent house bands.
In book 6, Stephen Stills plays at Cameron House with his unnamed new band with Joseph and Cole.
While there, Scott runs into Knives and blurts out like a moron that they should have casual sex before she leaves for university. Knives declines having moved on, though the two have an unsatisfying and awkwardly terrible kiss that disappoints everyone (including the reader)
Ad blocker interference detected!
Wikia is a free-to-use site that makes money from advertising. We have a modified experience for viewers using ad blockers

Wikia is not accessible if you've made further modifications. Remove the custom ad blocker rule(s) and the page will load as expected.