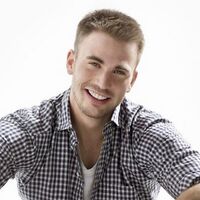 Chris Evans plays Lucas Lee in the Scott Pilgrim vs. the World movie. He is best known for starring as the Human Torch in the Fantastic 4 movies. He has also starred in films such as Sunshine, Cellular, Street Kings, The Losers, and has since gained international fame for playing Captain America in Marvel Cinematic Universe films.
Interesting Connection
Edit
Chris Evans plays Lucas Lee, an actor who specializes in action movies, particularly as the gritty concrete hero who crosses over into romance with female cast. In his film career, Chris Evans is known for similar roles throughout his filmography, including Cellular, The Losers, Fantastic Four, and Captain America.
Ad blocker interference detected!
Wikia is a free-to-use site that makes money from advertising. We have a modified experience for viewers using ad blockers

Wikia is not accessible if you've made further modifications. Remove the custom ad blocker rule(s) and the page will load as expected.