Cole is a drummer who joined Kid Chameleon at Envy's request, forcing Scott Pilgrim to switch to bass. Presumably he was a much better drummer than Scott. He has black hair, dark-framed rectangular glasses and sideburns.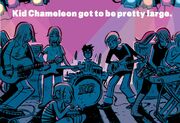 He appears in flashbacks in Book 3, and then later in Book 6 as the drummer for Stephen Stills and Joseph's Unnamed Band. Also, somewhere in between Scott Pilgrim vs. the Universe and Scott Pilgrim's Finest Hour, Scott encountered him and stabbed him in the face with a fork, assuming he was Gideon.
Cole is one of the four people who look like Gideon, the others being Simon Lee, Lawrence West, and Mobile. This is due to their hair and glasses.
Ad blocker interference detected!
Wikia is a free-to-use site that makes money from advertising. We have a modified experience for viewers using ad blockers

Wikia is not accessible if you've made further modifications. Remove the custom ad blocker rule(s) and the page will load as expected.