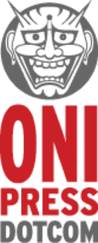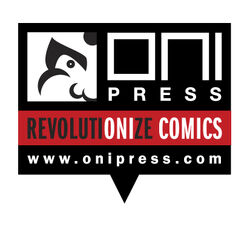 Oni Press is an American comic book publisher based in Portland, Oregon. It was founded in 1997 by Bob Schreck and Joe Nozemack. The company is well known for the Scott Pilgrim series, and it was also the first comic book company to feature comics written by filmmaker Kevin Smith, featuring Smith's characters Jay & Silent Bob. It also was the first company to publish stories featuring television writer Paul Dini's characters Jingle Belle and Sheriff Ida Red. Other notable properties published by Oni include Stephen Colbert's character Tek Janson, Invader Zim, Rick and Morty and Blue Monday. Its Demon logo (which was designed by Watchmen co-creator Dave Gibbons, and was replaced in 2012 with a new logo by Keith Wood[1]) is seen on Roxie Richter's shoulder as a Tattoo.
In 2003, Nozemack and producer Eric Gitter established a film and TV production sister company to Oni, called Closed on Mondays, which co-produced the Scott Pilgrim movie. However, in 2015, because of creative differences originating from the geological distance between offices (Closed on Mondays was located in Los Angeles, California), Oni and Gitter parted ways, and Oni established a new film and production arm, Oni Entertainment. [2]
External Links
Edit
Ad blocker interference detected!
Wikia is a free-to-use site that makes money from advertising. We have a modified experience for viewers using ad blockers

Wikia is not accessible if you've made further modifications. Remove the custom ad blocker rule(s) and the page will load as expected.