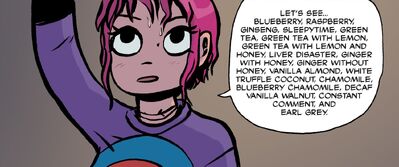 In
Ramona Flowers
's
apartment
is an entire cabinet dedicated to different types of tea. This surprises
Scott
, who asks, "There's more than one kind [of tea]?"
The teas in Ramona's cabinet
Edit
The following is a list of all the different types of tea in Ramona's Tea Cabinet
Blueberry
Raspberry
Ginseng
Sleepy Time
Green Tea
Green Tea With Lemon
Green Tea With Lemon and Honey
Liver Disaster
Ginger with Honey
Ginger without Honey
Vanilla Almond
White Truffle Coconut
Chamomile
Blueberry Chamomile
Decaf Vanilla Walnut
Constant Comment
Earl Grey
Ramona chooses Sleepy Time, making it easier for Scott, who asks "Did you make some of those up?"
Mary Elizabeth Winstead, who portrayed Ramona, did not read a script when saying all the teas and memorized them all by herself.
Ad blocker interference detected!
Wikia is a free-to-use site that makes money from advertising. We have a modified experience for viewers using ad blockers

Wikia is not accessible if you've made further modifications. Remove the custom ad blocker rule(s) and the page will load as expected.