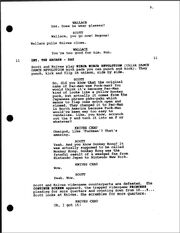 Scott Pilgrim's Little Life
is a draft script of the 2010 summer movie
Scott Pilgrim vs. the World
. The script was written sometime in 2007. The draft script is very different from the final script (Volumes
4
-
6
didn't exist when the script was written,
Envy
was evil ex number four instead of
Roxie
,
The Katayanagi Twins
were called The Katamari Twins,
Gideon
transformed into Cred-Zilla). The draft script then turned into the final Scott Pilgrim vs. the World script. Volumes 4-
5
existed when the final script was written, Roxie was finally evil ex number four, The Katamari Twins were now the Katayanagi Twins and Gideon didn't transform into Cred-Zilla. You can download the script (Adobe Acrobat Document)
here
.