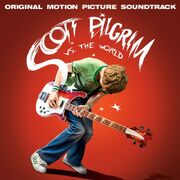 The original
Scott Pilgrim
Motion Picture Soundtrack features four new songs by Beck under the guise of
Sex Bob-omb
and two versions of a new Beck track. Also on the soundtrack are tracks by Broken Social Scene, Beachwood Sparks and Frank Black - alongside classic Rock anthems from rock greats the Rolling Stones and T.Rex plus a stellar inclusion from Britpop kings The Bluetones.
Track Listings
Edit
The bonus tracks, found on the Soundtrack's deluxe edition, are Beck's covers of Garbage Truck, Threshold, and Summertime. There is also an 8-Bit version of Threshold created by Brian LeBarton.
*Song created by Beck, performed by Michael Cera, Allison Pill, and Mark Webber.
**Song created and performed by Broken Social Scene.
***Sung by Brie Larson in the movie.
Ad blocker interference detected!
Wikia is a free-to-use site that makes money from advertising. We have a modified experience for viewers using ad blockers

Wikia is not accessible if you've made further modifications. Remove the custom ad blocker rule(s) and the page will load as expected.