What's this I hear about you dating a 16 year old?!?!

— Stacey
Stacey Pilgrim

Stacey Pilgrim: Scott's younger sister

Age:

19 (20 in volume 6) (18 in movie)

Occupation:

Cashier at Second Cup

Relationship:

Jimmy (before Wallace steals him)

Family:

Rating:

"T" for Teen
Stacey Pilgrim is Scott's 19-year-old younger sister. She works at the same Second Cup with Julie Powers and is also friends with Ramona. She's based on (and named after) Bryan Lee O'Malley's real sister Stacey. She sometimes calls Scott her little brother, probably because she is more grown up and mature. She has no problem interjecting her opinions and morals into Scott's life. She apparently keeps up via Wallace's texts, so they could be considered friends, though she sometimes expresses bitterness to Wallace when he constantly steals her boyfriends.
In vs. the WorldEdit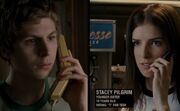 Stacey Pilgrim is played by Anna Kendrick whose previous works include the role of Jessica in the Twilight film series, as well as roles in Elsewhere, Up in the Air, and The Mayor.
Stacey is very gossipy in the movie, a running gag in the movie is that Wallace often texts her about the latest happenings in Scott's love life (once even whilst he's unconscious), causing Stacey to call immediately afterward. Like in the novels, she is quick to impose her (often blunt) opinions on Scott, such as telling him off for dating Knives. At the same time, she is shown to be close to him and even comforts him after Ramona seemingly goes back to Gideon.

In the Game
Edit

Stacey appears in the video game as a background character and a vendor in World 1. She also appears in World 6. A secret path will take you to Mobile's home and she is there (for some reason) before you meet Mobile. She also appears in the end credits as an audience to a Shatter Band concert.

Once in both the book and movie, Stacey refers to Scott as her "younger brother", despite being about four years younger than him. This was pointed out by Jimmy in Volume 1. The reason for this could refer to the fact that Stacey acts much more mature than Scott.

Stacey's actor, Anna Kendrick, is actually older than Scott Pilgrim's actor, Michael Cera.

Stacey doesn't like cats and finds the way they move "unnatural".
Compared to the other female characters in the series, Stacey is a relatively normal character.
At one point, Stacey can be seen wearing a T-shirt with the motif of a star from the Super Mario games, which Scott also does once.
At another, she is wearing a T-shirt with the Superman 'S' logo.
Her birthday is in December.[1]
Bryan Lee O'Malley has stated that if he were to remove any character from Scott Pilgrim, it would be Stacey because he was uncomfortable with her resemblance to his real-life sister. He said he wished to at least have changed her name, so as to not make it all too obvious.[2]
References
Edit
Ad blocker interference detected!
Wikia is a free-to-use site that makes money from advertising. We have a modified experience for viewers using ad blockers

Wikia is not accessible if you've made further modifications. Remove the custom ad blocker rule(s) and the page will load as expected.