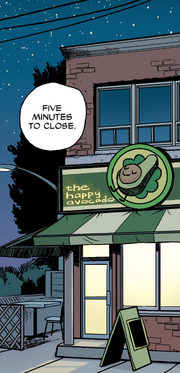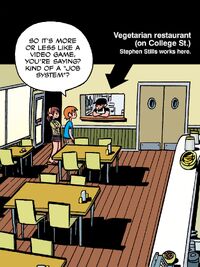 The Happy Avocado is a (fictional) vegetarian restaurant on College St. in Toronto.
Stephen Stills works there as a cook. In Book 4 he convinces day manager Dominique to hire Scott as a dishwasher (earning Scott 500 EXP). On his first day (second if you include the night where he works there), Roxie Richter and Ramona Flowers came in for lunch, which Scott indignantly interrupted, triggering a fight between Roxie and Ramona. Scott was then fired, but he came back the next day and successfully begged Dominique for his job back (earning 1000 EXP).
In Book 5, Scott has advanced to doing some basic food prep at the Avocado.
In Book 4, Stephen Stills mentions that Mr. Chau sometimes brings his family in to eat at the Happy Avocado. Apparently Mr. Chau once "came up to the window and incoherently thanked" Stephen Stills.
Ad blocker interference detected!
Wikia is a free-to-use site that makes money from advertising. We have a modified experience for viewers using ad blockers

Wikia is not accessible if you've made further modifications. Remove the custom ad blocker rule(s) and the page will load as expected.