Ad blocker interference detected!
Wikia is a free-to-use site that makes money from advertising. We have a modified experience for viewers using ad blockers

Wikia is not accessible if you've made further modifications. Remove the custom ad blocker rule(s) and the page will load as expected.
Thomas Jane
(born
Thomas Elliott III
; February 22, 1969) is an American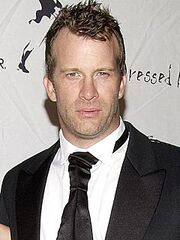 actor known for his roles in the 1999 film
Deep Blue Sea
, the 2001 TV film
61*
, the 2004 film
The Punisher
and the 2007 Stephen King adaptation
The Mist
. He also starred in the HBO comedy-drama series
Hung
. Jane was born in Baltimore, Maryland, the son of Cynthia, an antiques dealer, and Michael Elliott, a biogenetic engineer. In 1987, he graduated from Thomas Sprigg Wootton High School in Montgomery County, Maryland. At age 18, Jane relocated to Hollywood to pursue an acting career. He was initially homeless and lived out of his car. Regarding his time as a busker, Jane has noted "I had two songs in my repertoire that I hammered to death — 'Hey Joe' and 'Knockin' on Heaven's Door'....People used to pelt me with change just to shut me up."
Thomas also played one of the Vegan Police in Scott Pilgrim vs. The World. Thomas appeared near the end of the third evil ex battle when he took away Todd Ingram's Vegan powers.