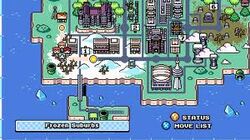 Toronto is the biggest city in Canada. It's where virtually all the events of the Scott Pilgrim series take place.
Although Scott Pilgrim used to live in Northern Ontario (along with Kim Pine and Lisa Miller), his family moved to Toronto before his senior year. He stayed in the city for college, attending the University of Toronto, and still lives there. It seems that many of the people in Toronto suffer from Sunnydale Syndrome, as even some of the major characters either don't notice, remember, or even have thoughts on Scott's over-the-top battles with the Evil Exes.
Locations
Edit
* - fictional locations
Ad blocker interference detected!
Wikia is a free-to-use site that makes money from advertising. We have a modified experience for viewers using ad blockers

Wikia is not accessible if you've made further modifications. Remove the custom ad blocker rule(s) and the page will load as expected.