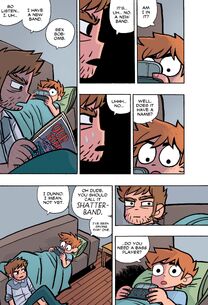 The Unnamed Band
appears in
Book 6
. It consists of
Stephen Stills
on bass (much to his own disdain),
Joseph
on guitar, and
Cole
on drums. While without moniker, the three land a gig at
Cameron House
and perform quite successfully. At the beginning when hearing of the group from Stephen,
Scott
suggests that they name themselves 
Shatter Band
. Scott would later go on to use this name for his and 
Kim
's (awful) new band.
Ad blocker interference detected!
Wikia is a free-to-use site that makes money from advertising. We have a modified experience for viewers using ad blockers

Wikia is not accessible if you've made further modifications. Remove the custom ad blocker rule(s) and the page will load as expected.