Young Neil
Talk

0
230pages on
this wiki

I'm young. I'll grow out of it.

— Neil
"Young" Neil Nordegraf

Neil (Volume 4)

Age

20

Occupation

Student (book)
Current bassist of the Sex Bob-omb (movie)

Family

Steph Nordegraf (sister)

Relationship

Formerly with Knives Chau
"Young" Neil Nordegraf is Sex Bob-omb's biggest fan, next to Knives Chau. He is Stephen Stills' 20-year-old roommate and briefly dates Knives Chau (from volume 3 to volume 4). During Sex Bob-omb's extended recording in Scott Pilgrim vs. the Universe, he becomes angry at how isolated he has become from his friends and later becomes bitter and sullen, taking up smoking. His sister, Steph Nordegraf, played bongos and the viola in Scott's old band, Kid Chameleon. Young Neil's name is a tribute to Neil Young, a well known Canadian singer-songwriter, musician and film director (and occasional band mate of the real Stephen Stills).
He dates Knives briefly, but she admits she's really only dating him because he looks like Scott.
In Volume 6, "Young Neil" is referred to for the first time in the series as Neil, when Scott introduces Neil to Stacey Pilgrim. It is the greatest day of his life. It is implied that Neil negatively acquainted the moniker "young." It also can be viewed as the end of his dick-like attitude, referenced in Volume 5, "I'm young, I'll grow out of it."
He seems to take great pride in the fact that he's the Sex Bob-omb's number 1 fan, as when Kim said Knives was their number 1 fan (in Book 1), Neil quickly stands up, whimpers and tears up, and runs off crying, to which Kim yells "Other than you, Neil!"
Neil's moniker "Young Neil" is naturally a play on of the name of the renowned Canadian musician and singer "Neil Young." One group Neil was a part of in his beginning was Buffalo Springfield. One of the members of Buffalo Springfield was Stephen Stills for whom the character of the same name exists in the series. As Buffalo Springfield began to decline, Neil Young took it upon himself to go solo and sky rocketed immediately. One of the few people he took with him was Stephen Stills who became his backup for a time, and the two even launched an album together, "Long May You Run," as "The Stills-Young Band." Neil Young has been a huge influence on a variety of artists to this day including Nirvana's Kurt Cobain.
Reversing the name, we get "Young Neil" who seems to have the opposite influence throughout the series, he's the original groupie for Sex Bob-omb, meek, carries no musical influence or prowess as far as we can tell, and Stephen Stills is viewed as "the talent" rather than him. He is Sex Bob-omb's biggest fan until Knives comes along.
In vs. the WorldEdit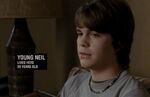 Young Neil is played by
Johnny Simmons
, whose previous works include
Jennifer's Body
,
Hotel for Dogs
, and
Evan Almighty
.
In the Movie, Young Neil is a kind of roadie/fanboy to Sex Bob-omb, going to rehearsals and hanging out with the band despite not actually being in it. Neil strives to be just like Scott as he often repeats what Scott says, dresses in similar ways to Scott, knows how to play bass exactly like Scott, and ends up dating Knives just like Scott did. When Gideon wants to sponsor Sex Bob-omb, Scott refuses and leaves the band, and Neil takes his position and his bass (but ends up just getting a new one that is black and similar to the old one), officially becoming Sex Bob-Omb's new bass player. In Scott's second life he apologizes to all the members of the band and Scott tells Young Neil that the band sounds better with him on bass, and that from this day on he will be known as....Neil. Similar to Kim and Stephen Stills, Young Neil has a somewhat weak friendship with Scott before the scene in the Chaos Theater.

In the Game
Edit
Young Neil appears in
the Game
as a background character and the shop owner in
Leo's Place
Stand in
World 3
.
In Scott Pilgrim Gets it Together, Neil can be seen wearing a shirt with the Deathly Hallows symbol from the Harry Potter series.[1]
In the movie, Neil's last name is never mentioned. It is only seen when Knives Chau texts him asking to meet up.
References
Edit